This year's legislative session is well underway, and there are a handful of bills that community associations should keep an eye on. Our firm is tracking the following bills that may have an impact on community associations, if passed:
HB 209 /SB 1084: Emotional Support Animals
Similar to federal law, Florida law requires reasonable accommodations for those individuals with service animals, but fails to provide guidelines for other assistance animals, such as emotional support animals (ESA).  This bill amends Florida's Fair Housing Act by prohibiting discrimination in housing against individuals with a disability or a disability-related need who require an ESA. The bill also prohibits housing providers from charging additional fees pertaining to an ESA. The bill specifies that the individual requiring the ESA is liable for any damages to the premises or to another person resulting from the ESA. This bill also allows a housing provider to request supporting information regarding the individual's disability or disability-related need for the ESA, and creates a new cause for disciplinary action against a health care practitioner's license for providing supporting documentation for an ESA to those whom they haven't treated. Finally, the bill creates criminal liability for providing false or fraudulent documentation in support of an accommodation request for an ESA. If passed, this bill will be effective July 1, 2020.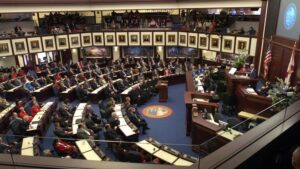 HB 623 / SB 1154: Community Associations
This legislation proposes a vast amount of modifications to Chapters 718, 719 and 720, Florida Statutes. In part, the bill allows for the removal of outdated language in community association governing documents, confirms when board member term limits are considered to begin to run, and clarifies that owners need not provide a reason for inspecting association official records. If passed, this bill will be effective July 1, 2020.
SB 1446: Homeowners' Associations Dispute Resolution
Pertaining to how homeowners resolve disputes, this bill requires nonbinding arbitration in certain homeowners' association disputes, and authorizes parties to initiate judicial proceeding. It also provides procedures for certain homeowners' association disputes which do not require nonbinding arbitration. If passed, this bill will be effective July 1, 2020.
HB 235 / SB 1448: Nonbinding Arbitration Fees and HB 233 / SB 1446: Homeowners Associations Dispute Resolution
HB 235 and related SB 1448 require a filing fee in the amount of $200 to accompany a petition for nonbinding arbitration for disputes involving homeowners associations after an unsuccessful pre-suit mediation.  The legislation also authorizes for the DBPR to charge each party an adequate amount to cover any additional costs and expenses at the conclusion of the proceeding, and it provides for a prevailing party in nonbinding arbitration to recover certain costs and fees.  HB 233 and related SB 1446 provide that parties will be required to participate in mandatory nonbinding arbitration if either of the following occurs: (1) the parties do not participate in the pre-suit mediation process, or (2) the pre-suit mediation does not result in an agreement.  This legislation would not apply to disputes regarding use of, or changes to, the parcel or common areas or other covenant enforcement disputes. These bills will only take effect if both bills, or other similar legislation, are adopted in the same legislative session.
HB 137 / SB 1442: Homeowners' Association Recalls
Revising the process of recalling a homeowners' association director, this legislation also limits the ability to vote on recall to parcel owners whose parcel are their actual homesteads. It also adds an addendum allowing members with a voting interest to cast a vote in favor of or in opposition to the recall. If passed, the bill will be effective date of July 1, 2020.
HB 733 / SB 802: Marketable Record Title Act
The Marketable Record Title Act (MRTA) confirms real property's marketability based on a 30-year marketable record period and a consideration of the statutory exceptions. Restrictive covenants govern the use of real property, as some restrictive covenants restrict an individual's ownership, occupancy or use based on discriminatory restrictions. This legislation provides that a discriminatory restriction is unenforceable and extinguished under MRTA. It also creates a simplified process for a property owners' neighborhood association to remove a discriminatory restriction through a majority vote of the association's board. Additionally, the bill adds covenants, restrictions, zoning requirements, and building or developmental permits to the list of encumbrances extinguished by MRTA, and amends the existing statute to require more specificity in the disclosure required for a restriction, a deed, or muniment of title to fall under the exception for rights disclosed before the 30-year root of title. If passed, this bill will be considered effective upon becoming law.
HB 175 / SB 374: Housing Discrimination
Further supporting the Florida Fair Housing Act (FFHA) and the federal Fair Housing Act (FHA), House Bill 175 allows an individual claiming housing discrimination to bring a civil action without first having to file a complaint with the commission. This bill would take effect upon becoming law.
HB 295 / SB 948: Construction Defects
Strictly affecting Chapter 558, which is also known as the Florida Construction Defect Statute, this legislation creates disclosure requirements relating to construction defect claims for sellers. The bill also provides that a claimant must attempt to resolve construction defects under any applicable warranty prior to filing a notice of claim for the defect, and it increases the specificity of detail a claimant must provide in the notice of claim. If passed, this bill will be effective July 1, 2020.
Our firm will continue to monitor these bills as they make their way through the Florida Legislature, and ultimately, to Governor DeSantis's desk.  Upon conclusion of the session, the Governor will then sign the bills that survived, or will veto them.  Should the Governor fail to act on legislation within 10 days of being presented with such legislation, then it will become law without his signature.