A recent article in the Palm Beach Post chronicled the early signs of the financial strains that Florida condominium associations are beginning to experience. Unfortunately, these early issues involving increased insurance costs represent just the beginning, and things are indeed expected to get worse in the months and years to come.
The article discusses how the 51-year-old Portofino South Condominium in West Palm Beach (pictured below) received a renewal quote from its insurer with an 82 percent increase over the prior year. It had expected an increase of around 25 percent, which was what it got for 2021, so the board of directors had to call a special meeting to increase the association's annual budget and hike up its monthly dues for its owners.
Mary McSwain, who bought her one-bedroom unit in January, told the Post's Kimberly Miller that her dues are going from $914 a month to $1,347.
"And it's likely to get more expensive for owners under the new condo law approved during a special legislative session," the article reminds readers.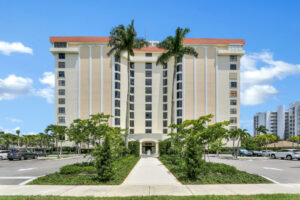 Indeed, while most of those safety provisions do not become effective until 2024, the law will require significant new inspection and maintenance measures on older condos three stories or higher, as well as dedicated reserves to pay for structural repairs.
For the owners at Portofino, the news is even worse. State law now requires it to install a new fire-sprinkler system by Jan. 1, 2024, and that is expected to cost its unit owners more than $7 million.
Two federal proposals have been introduced in the U.S. House of Representatives by Charlie Crist (D-Fla.) and Debbie Wasserman Schultz (D-Fla.) that could provide some relief for condominium communities in need of repairs and renovations.
The Rapid Financing for Critical Condo Repairs Act of 2022, which was introduced in July, would enable the U.S. Department of Housing and Urban Development's Federal Housing Administration to insure condominium association building rehabilitation loans issued by private lenders. The loans would be reserved exclusively for rehabilitation, alteration, repair, improvement, or replacement of a condominium's common systems, infrastructure and facilities.
The legislation allows FHA insurance for up to 90 percent of the repair/rehabilitation costs, and the loans would have 30-year terms, fixed-interest rates, and no prepayment penalties. FHA-insured loans tend to have a lower interest rate for borrowers than typical bank portfolio loans, and their lack of prepayment penalties would enable associations to refinance if interest rates fall.
The Securing Access to Finance Exterior Repairs (SAFER) in Condos Act from April would allow condominium owners to finance critical building repairs with their own FHA-backed loans, which they could combine with their existing mortgage debt into a new 30-year FHA-insured loan. Those who do not have a mortgage or would prefer to leave it as is would have the option of accessing the FHA Property Improvement Program to finance such an assessment over a 20-year term.
Such FHA-backed loans for both condominium associations as well as their individual unit owners would enable them to secure the very best possible rates and terms to quickly finance urgent work.
My fellow firm partner Gary Mars wrote in a recent Miami Herald op-ed article that providing such government-backed financing programs for critical repairs for both condominium associations as well as their individual unit owners promotes public safety and helps to avoid potential catastrophes, thereby serving an immense public good that merits full government support.
He and I agree that in today's polarized political environment, it will be essential for lawmakers from both sides of the aisle to co-sponsor these proposals in order for them to gain the bi-partisan support they will probably need for passage. Our firm is asking everyone to contact their U.S. representative and encourage them to co-sponsor and support these bills.