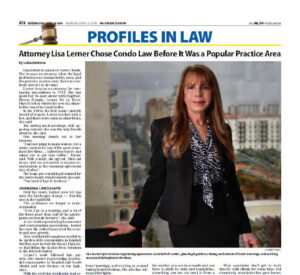 The firm's Lisa A. Lerner was the subject of a profile article in today's edition of the Daily Business Review, South Florida's exclusive business daily and official court newspaper.  The article, which is titled "Attorney Lisa Lerner Chose Condo Law Before it Was a Popular Practice Area," chronicles Lisa's 36-year career as one of the pioneer female South Florida attorneys in community association law.  It reads:
Lisa Lerner is a pioneer on two fronts. She became an attorney when the legal profession was dominated by men, and she picked a practice area that was relatively obscure at the time.

Lerner became an attorney for community associations in 1983. She has spent her 36-year career with Siegfried Rivera, where she now is a shareholder based in Coral Gables.

In the 1980s, the field wasn't entirely devoid of women. Lerner worked with a few, and there were some in other firms, she said.

But during most meetings with opposing counsel, she was the only female attorney, she said.

One meeting stands out in her memory.

"I am not going to name names, but a senior partner for one of the most prominent law firms … call(ed) me honey and asked me to get him coffee," Lerner said. With a smile, she agreed, "then sat down, and we proceeded to expose every loophole in the easement agreement they drafted."

Her team got everything it wanted for the condo board it represented, she said.

"You kind of had to be there."
The article concludes:
Lerner's job includes negotiating agreements on behalf of condos, giving legal guidance during and outside of board meetings, and working as counsel during board elections. She also has witnessed fist fights.

"I've been in many meetings where there's actually been board members punching other board members," she said. "People get very emotional. This is their home. It's a whole different area than … representing somebody in their business. You take it very personally when you are dealing with your home. (It's) a big investment. So there's a lot of emotion involved."

Lerner likens her job to that of a city attorney. She is there to give the best legal advice without getting involved in the politics or succumbing to political pressure, she said.

"Especially in the luxury high-rises, you have a lot of people moving out from their single-family homes, and they are not used to living in such close proximity with all these neighbors and having to compromise for the overall good," Lerner said. "You put all these different personalities together. People are presidents of their own companies. They are just used to things their way. And all of the sudden, you are in a condo and you have to abide by rules and regulations, something you are not used to from a single-family home."

Lerner sometimes has to play peacemaker.

"To me, trying to balance the different needs of the different homeowners, that's always fascinating," she said.

Path to Condo Law

Lerner didn't set out to pursue condo association law.

It was more a sequence of events, and advice from her father, that led her there.

While she was in law school, her parents lived in a Hallandale Beach condo and her father became the board president. Even in 1982 when the region was less crowded, he foresaw condominium law becoming big, Lerner said.

"Jeez, this is going to be a whole new area of law. It's going to be huge with what's happening with building and development," Lerner recalled him saying.

Once at Siegfried Rivera, she embarked on this specialty and said it was the right choice.

Most associates don't get to work directly with clients for some time, but community association law gave Lerner the chance to go into the field right away, she said.

"You are going to the election meetings, you are meeting all the boards of directors, you are meeting the homeowners. You really see what all the problems are in the community," Lerner said. "Because you go to a lot of meetings, board meetings, special elections, you really get to experience so many different things."

Lerner became partner in 1986.

Recently, she was appointed to the Florida Bar's new condominium and planned development law certification committee, which provides certification for condo and planned development attorneys.
Our firm salutes Lisa for her role as one of the pioneers of the practice of community association law in South Florida that was chronicled in her "Profiles in Law" article in today's Daily Business Review.  Click here to read the complete article in the newspaper's website.