With the growing popularity of Uber Eats, Grubhub, DoorDash and other food delivery services, many restaurants and other food service tenants (e.g., coffee shops) are now working diligently to increase their sales through delivery. Part of that process entails changes to their kitchen staffing and meal-preparation techniques, but another important element involves the use of dedicated parking spaces for takeout/delivery orders.
The online food-delivery apps are tapping into the public's increasing aversion to cooking at home. For the first time ever in 2016, Americans spent more at eating and drinking establishments than on groceries, according to U.S. Census data. The delivery market grossed $30 billion in 2017, but Morgan Stanley estimates it could balloon to $220 billion within the next few years.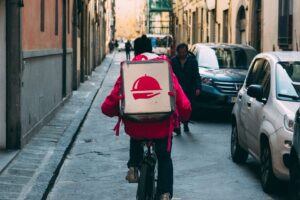 The growth in food delivery has even led to the rise of virtual restaurants, which can only be accessed online. These establishments are discreetly nestled away in industrial parks, have no takeout window or signage, and their offerings can only be purchased via Grubhub and other delivery apps.
With the increased demand and competition in food takeout/delivery, savvy restaurateurs are now scrambling to make the necessary changes in order to take advantage of this fast-growing segment of the industry. The result of this changing dining landscape is creating the need for changes to the physical landscape of many malls and shopping centers, namely in the use of dedicated parking spaces for delivery/takeout visitors in order to enable them to make quick and easy stops.
While restaurant and food service operators are quickly adapting to accommodate the increase in to-go orders, the owners of the commercial shopping centers that they occupy have not been as quick to adopt related changes to meet the new realities of their tenants' needs. In particular, acquiescing to tenant demands for the creation and enforcement of dedicated parking spaces for delivery drivers and food pick-up is a chief component of this issue, as they make it possible for restaurant tenants to maximize the speed and convenience that they are able to offer in order to compete in the delivery market. Many landlords will also want to consider lease restrictions on the amount of space and sales that restaurants can dedicate to takeout/delivery, as other tenants may perceive the diminished dine-in customers as a change that will exacerbate the trend of decreased traffic counts in retail.
However, landlord's may simply be locked in to a parking calculus that is not driven by reality at the center, but rather by municipal or county parking requirements which prevent a landlord from entertaining more pragmatic parking solutions. An often-necessary element to effectively addressing changing parking needs for tenants is to address such issues with governmental authorities. For example, a good first step for property managers and owners would be to actively engage with municipal and county planning and zoning departments to consider new regulations to permit parking spaces dedicated to delivery services to count towards the satisfaction of parking ratios for more than one restaurant tenant.
Needless to say, any changes involving the use of dedicated food pick-up parking spaces and establishing sales thresholds for takeout/delivery orders must be clearly recited in leases between landlords and their tenants. For these and other changes involving this new trend in takeout dining, property owners should work with highly qualified and experienced real estate attorneys in order to negotiate and implement the most effective lease terms and conditions.