A recent case involving an engineering firm's lawsuit for nonpayment against a Miami Beach condominium association illustrates the importance for contractors and engineers to file liens for work performed under a single contract as opposed to umbrella liens for services rendered under multiple contracts.
Pursuant to Florida law, construction liens may only be imposed for work performed under a single contract. However, an engineering firm sought to recover more than $107,000 for concrete and stucco remediation, replacement windows, sliding glass doors, cabanas and a new entrance as part of its work under nine separate contracts with the condominium association.
The Miami-Dade Circuit Court Judge overseeing the case issued partial summary judgment in favor of the condominium association. The decision extinguished the lien for failing to comply with Florida Statute §713.09, which states: "A lienor is required to record only one claim of lien covering his or her entire demand against the real property when the amount demanded is for labor or services or material furnished for more than one improvement under the same direct contract."
It is well established in Florida that separate liens are required for claims attributable to separate contracts, yet filing mistakes such as this one by the engineering firm and its attorneys occur from time to time.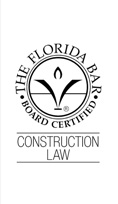 As liens can be filed against real estate only within 90 days of the final furnishing of non-corrective work being performed, the repercussions of flawed lien filings such as the one in this case can prove to be very costly for construction and design firms.
This case is yet another example of the importance of working exclusively with highly experienced construction attorneys for all matters involving construction-related liens and litigation. Our firm's other construction attorneys and I write regularly in this blog about important legal and business issues for construction professionals in Florida, and we encourage industry followers to submit their email address in the subscription box at the top right of the blog in order to automatically receive all of our future articles.