A recent article in the Pensacola News Journal focused on an uproar over an HOA's restrictions against backyard chickens in a case that is very similar to one I wrote about in this blog in September 2021.
The newspaper reports that Holley By the Sea homeowners in Santa Rosa County fear their HOA may be moving toward a complete ban of their feathery friends. Approximately 100 of the 3,500 residents in the sprawling community own chickens, according to resident Mark Chapman.
He says the community's residents take pride in their chickens and small backyard coops, and some fear the HOA is seeking to limit or possibly ban chickens from the neighborhood.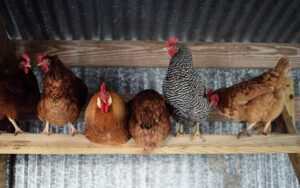 Chapman tells the newspaper that chicken ownership had not been a problem until fairly recently when the new board of directors decided to make it one. He says the board has begun its efforts by limiting the size of backyard chicken coops. One resident was ordered to reduce the size of her coop and lower its roof to no higher than six feet, even though Chapman has been allowed to keep his at seven feet. He says the new board president has stated he wishes to ban chickens in the community, and a Nov. 8 meeting has been scheduled on the issue.
In a statement to the News Journal, Holley By the Sea General Manager April Salazar declined to comment: "The board of directors cannot individually speak on an item that has not been approved by the entire board. At this time there is nothing the association would be able to report on the item," it reads.
As I wrote last year, when it comes to coverage of association disputes, nothing seems to draw the media's attention more than quarrels involving the forced removal of family pets and service animals. That column focused on a report by CBS-12 News of a Boca Raton family that was clashing with its HOA in hopes of keeping its chickens and backyard coop, which they had maintained for 10 years.
My assessment and takeaways from that case still hold true today. Rules and enforcement can be very challenging for community associations to administer, and it takes a complete commitment to developing rules and resolving disputes as reasonably and fairly as possible with uniformity and impartiality in all deliberations and decisions.
The truth is that community associations to some extent have a negative perception for overly stringent rules and overzealous enforcement. Damaging media attention for the removal of animals that are beloved by homeowners who have had them for many years should be considered a very real and likely possibility by association boards of directors, which have a duty to weigh all of the factors that help to maintain a community's property values and appeal.
As I concluded last year, by developing and implementing a fair and effective process for devising and enforcing rules and restrictions, and also for resolving any disputes that may arise, associations can help to reverse a negative perception and reinforce their positive image for safe and hassle-free living with exceptional amenities.
Our firm's South Florida community association attorneys write about important matters for associations in this blog, and we encourage directors, members and property managers to enter their email address in the subscription box on the right to automatically receive all our future articles.