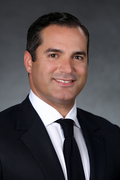 The firm congratulates shareholder Roberto Blanch on being elected to the Board of Directors for the Community Associations Institute's Southeast Florida Chapter. This is Mr. Blanch's first time as an elected director for CAI's SE FL Chapter and his term shall commence in 2014.
Throughout the years, Blanch has been an active member of CAI's SE FL chapter and has served as co-chair of the chapter's Miami-Dade committee. He has helped plan numerous events such as the Chapter's educational breakfast series in Miami-Dade County and its Ask the Experts Panel Discussion.
We are very proud to have Roberto Blanch as a member of our firm and recognize his accomplishment.