Senate Bill 630, a bill that has wide support from community association industry interests across the state, passed the Florida Senate with a unanimous vote of 40 to zero. It will now move to the Florida House of Representatives for consideration.
The bill represents sweeping changes for Florida communities. It allows condominium associations to use the same non-binding arbitration process used by HOAs; increases the amount that can be charged for a transfer fee from $100 to $150; addresses insurance subrogation; and clarifies that associations' emergency powers extend to health emergencies.
The legislation also prohibits associations from requiring certain actions relating to the inspection of records; revises requirements relating to the posting of digital copies of certain documents by certain condominium associations; authorizes condominium associations and cooperatives to extinguish discriminatory restrictions; revises the calculation used in determining a board member's term limit; and deletes a prohibition against employing or contracting with certain service providers.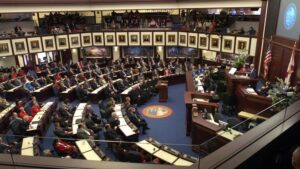 The bill also features several changes pertaining to electric vehicle and natural gas charging/filling stations, including: revising the requirements for electric vehicle charging stations; providing requirements for natural gas fuel stations; authorizing boards to take certain actions relating to electric vehicle charging stations and natural gas fuel stations; providing that the installation, repair, or maintenance of electric vehicle charging stations or natural gas fuel stations do not constitute material alterations or substantial additions to the common elements or association property; and providing that labor and materials associated with the installation of a natural gas fuel station may not serve as the basis for filing a lien against an association but may serve as the basis for filing a lien against a unit owner.
The bill also requires that notices of intent to record a claim of lien specify certain dates. It authorizes parties to initiate pre-suit mediation under certain circumstances; specifies the circumstances under which arbitration is binding; revises requirements for certain fines; revises provisions relating to a quorum and voting rights for members remotely participating in meetings; revises the procedure to challenge a board member recall; authorizes an association to adopt procedures for electronic meeting notices; revises the documents that constitute the official records of an association; revises the types of records that are not accessible to members or parcel owners; revises the circumstances under which an association is deemed to have provided for reserve accounts; authorizes certain developers to include reserves in the budget; specifies that developers are not obligated to pay for certain expenses; and provides limitations on associations when a parcel owner attempts to rent or lease his or her parcel.
The Florida House of Representatives is expected to pass the bill, which will then go to Governor DeSantis for approval.
Our firm's other South Florida community association attorneys and I will continue to keep a close eye on this legislation, which includes many notable and significant changes for associations and their property managers. For the latest information on important association matters and legislation, we encourage association directors, members and property managers to submit their email address in the subscription box on the right in order to automatically receive all our future articles.