A couple of years ago in December 2020 I wrote a blog post about wild hogs invading several communities in Manatee County and making local headlines at the time in the newscasts of several Tampa Bay-area TV stations. The same issue now appears to have come to a head at a community on Florida's east coast just north of Daytona Beach, where a station recently covered a vicious attack by wild hogs against an 89-year-old resident and his small dog.
According to the November 22 report by News FOX 35 (Orlando), two wild hogs attacked David Reisman and his dog as he set out to take his pet for a walk. He tells the station he was able to fight back with his flashlight before his wife ran outside and scared the animals away.
"I started hitting these wild beasts in the face several times," Reisman explains in the report.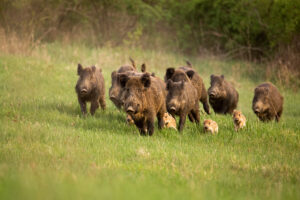 A fellow neighbor and homeowner in The Crossings at Grand Haven in Palm Coast, Barton Kaplan tells the station that the hogs have been an ongoing issue, and the problem has now become out of control.
"We can't roam freely to visit our neighbors. We're hostages in our own homes," he laments to the reporter.
He says the animals repeatedly dig up mulch, exposing pipes and wires, and pull out plants.
Both he and Reisman are calling on their homeowners association to install a fence around the entire community to try to control the problem, and Kaplan tells the reporter that the HOA has agreed to hire more trappers.
The report concludes by noting that FOX 35 reached out to the association but did not receive a reply.
As I wrote in my 2020 article, homeowners in several Tampa Bay-area neighborhoods also told their local stations' reporters that wild pigs were wreaking tens of thousands of dollars in damage to their properties. The hogs would tear up lawns and landscaping in search of food underneath the turf, replacing pristine lawns with a muddy mess.
The River Club HOA was also having trappers set up traps, but homeowners told the reporters that more needed to be done.
Per my prior column, the Florida Fish and Wildlife Conservation Commission reports that preventing wild hogs from invading property can be difficult, but adequate fencing should keep them out of small yards and gardens. On private property with written landowner permission, wild hogs may be trapped, shot or hunted year-round with no fees, licenses or permits required (including when using a gun and light during non-daylight hours). Hunters may use dogs and any legal rifle, shotgun, crossbow, bow, or pistol; hogs of either sex may be harvested, and there is no size or bag limit.
Poisoning wild hogs is prohibited, and trapped animals may only be released on a property with landowner permission. Prior authorization from the Commission is not required for individuals wishing to remove wild hogs from private lands with landowner permission, and private nuisance wildlife trappers offer services for their trapping, removal and disposal.
My suggestions from 2020 still hold true for this Palm Coast community and any others being impacted by wild hogs today. They should begin by contacting the regional office for the Florida Fish and Wildlife Conservation Commission for their area of the state to check whether the agency may be able to provide for one of its wildlife officers to personally become involved to help their community devise and implement the best possible solutions. They should also contact several experienced local wildlife trappers for their insights and expertise.
If possible, these experts should be encouraged to participate in the meetings of the boards of directors, as their experience-based guidance should prove to be invaluable. All the voices from homeowners and other interested parties should be heard and considered, and the boards of directors should then make informed and reasonable decisions based upon all the expert advice and community considerations.
As I concluded two years ago, with destructive wildlife invasions such as this, hoping the problem will just go away without taking proactive measures is not an option for homeowners associations. By consulting with experienced wildlife professionals, working together with neighboring communities, and considering all the pertinent options and concerns, associations and their boards of directors can move quickly to curtail and hopefully eliminate problematic and potentially dangerous wildlife invasions.
Our firm's South Florida community association attorneys write about important matters for associations in this blog, and we encourage community directors, members and property managers to enter their email address in the subscription box on the right to automatically receive all our future posts.