At the start of summer, associations should evaluate their pool rules and procedures in addition to conducting all of the necessary inspections of their pools, spas and related equipment.
With the help of qualified professionals, the inspections should include all pools and pool equipment as well as the surrounding amenities, including gates, fences, signs, locker rooms, etc.
Association pool rules should focus on health and safety, and should avoid focusing on classes of protected persons, particularly families with children.  Making the activities of children the focus of prohibitory rules can substantially increase the potential that an association will receive a complaint alleging discriminatory conduct under federal, state and local fair housing laws.  Even prohibiting something as seemingly innocuous as "pool toys" could be deemed discriminatory, if directed specifically at children, rather than at all persons.
Likewise, unless your community avails itself of the Housing for Older Persons exemption to the anti-discrimination provisions of the Fair Housing Amendments Act of 1988, designating "adults only" pools or use times may give rise to FHA violations.  Furthermore, some courts have found that not permitting children access to pools and other amenities unless accompanied by parents could also give rise to FHA violations.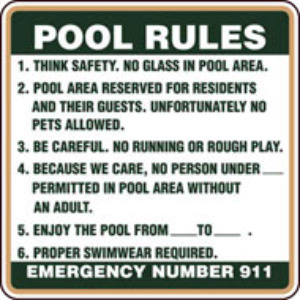 Some of the most common safety-related rules include:
No running.
No glass containers.
No diving in shallow areas.
No pushing, horseplay, roughhousing, or dunking.
No smoking and/or tobacco products in the pool area.
If on-site staff is charged with monitoring association pools, these employees should receive proper training addressing the pool rules and their enforcement, safety procedures, and calls for emergency assistance.
By conducting all of the necessary annual inspections and implementing appropriate rules to address safety, associations can help to ensure that they avoid wading into any rough waters during the summer pool season.