The Florida Legislature made Covid-19 civil liability protections for businesses, healthcare providers, non-profits, and other organizations a major priority for the 2021 session, and on Monday, March 29, it became the year's first bill signed into law by Gov. Ron DeSantis. SB 72, the bill that provides several Covid-related liability protections for businesses, healthcare providers, educational institutions, government entities, religious institutions, and not-for-profit corporations such as community associations, is now the law in Florida.
Under the new law, covered entities will be shielded from civil liability for Covid-related lawsuits for monetary damages, injuries or deaths so long as the allegations do not involve gross negligence or intentional misconduct.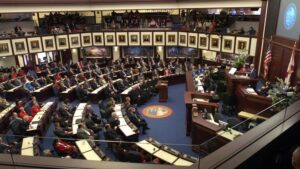 As of March 29, Florida community associations that have implemented measures to safeguard their residents and staff from the potential spread of Covid-19 in their communities and comply with local, state and federal guidelines are protected from liability for Covid-related lawsuits.
Individuals seeking to file valid suits for coronavirus-related injuries or deaths against covered entities will need to provide an affidavit from a medical professional asserting that they contracted the virus at the corresponding property.  The claims also need to demonstrate "clear and convincing evidence" of "gross negligence" — a high legal standard — to establish their validity.  They will be required to demonstrate in court that a defendant did not make a good faith effort to comply with public health guidelines in order for their legal action to prevail.
The law also sets a one-year statute of limitations for the filing of lawsuits from the later of the date of death, hospitalization or the Covid diagnosis involved in the claim.  This applies to claims that accrued before the enactment of the law and within one year following the Governor's March 29 signing, but it does not apply to lawsuits that have already been filed.
Community association boards of directors should continue to bear in mind that Florida remains under a state of emergency until April 26, though that date might change if the order is extended.  Even with the new vaccines rolling out across the country, health officials are warning of another surge in cases caused by diminished precautions and new variants of the virus that are even more contagious than the original strain.
Some Florida counties are still requiring facial coverings in places where people congregate, including community association common areas.  Therefore, our firm's community association attorneys are encouraging boards of directors to continue to maintain prudent precautionary measures and safety protocols to help prevent the spread of coronavirus in their communities.