As the 2023 Florida legislative session gets underway, there are several bills impacting associations and real estate that our firm's South Florida community association attorneys will be keeping a close eye on and discussing in our blog.
Senate Bill 154 and House Bill 1395
Perhaps the most important of these are Senate Bill 154 and House Bill 1395, which deal with issues such as inspections and condominium association financial reserves that were addressed in the condo safety reform law that was passed last May with the adoption of Senate Bill 4D during a special legislative session. Under the new law, inspections are required for buildings that have been occupied for 30 years — or 25 years if they are within three miles of a coastline. After these initial inspections, the buildings will have to go through the process again every 10 years.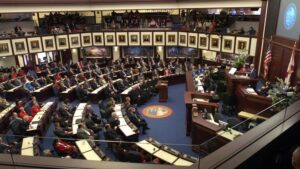 If adopted, the new bills could result in changes to the time by which buildings, including those within three miles of a coastline, will have to be inspected. The two bills include different timeframes by which the initial milestone inspection may have to be performed (e.g., SB 154 triggering all such inspections at 30 years with discretion for local officials and authorities having jurisdiction to compel some at 25 years depending on "local circumstances, including environmental conditions such proximity to salt water"; or HB 1395 requiring the initial inspections at 25 years for all buildings regardless of proximity to salt water).
SB 154 also includes provisions that would allow local officials to extend inspection deadlines if building owners have entered into contracts with architects or engineers but the inspections cannot be finished in time.
HB 1395 further proposes to increase the types of professionals that may perform phase 1 of the milestone inspections from architects and engineers to also include general contractors licensed under Chapter 489, Florida Statutes, with at least five years of experience in building/constructing threshold buildings, or as a building code administrator or licensed building code inspector.
The bills also include changes to portions of the statutes governing the financial reserves studies and requirements that were implemented under last year's law. Some of the changes provided in SB 154 include clarification as to which building components must be included as part of the required reserve funding. It would also allow reserve studies to "recommend that reserves do not need to be maintained for any item for which an estimate of useful life and an estimate of replacement cost or deferred maintenance expense cannot be determined." The bill's sponsor says that provision could apply to building foundations.
HB 1395 includes different proposed changes pertaining to the structural integrity reserve items, such as providing for modified deadlines to the December 31, 2024, deadline established under last year's reforms.
These are just a sampling of the various changes being considered by the legislature this session. As is usually the case with the legislative process, the provisions of SB 154 and HB 1395 will likely undergo various changes and may become mirror images of each other via lawmakers' negotiations resulting in a final version that may be voted into law. Condominium association stakeholders should keep an eye on these bills given that their adoption by the legislature could surely result in significant changes to the monumental laws adopted last year affecting condominium associations in Florida.
House Bill 85
The legislature is also considering changes to the state's statute of repose for construction defect lawsuits, which is used to determine how long a party has to file a claim for latent construction defects after a structure or improvement has been completed.
Currently, the state's 10-year period of repose starts to run from the latest of these four events: 1) the date of actual possession by the owner, 2) the date of the issuance of a certificate of occupancy, 3) the date of abandonment of construction if not completed, or 4) the date of completion of the contract or termination of the contract between the professional engineer, registered architect, or licensed contractor and his or her employer. After the 10-year period expires, a claim for latent defects can no longer be brought.
If adopted, House Bill 85 would revise the triggering events for the period of repose for suits brought for latent construction defects to the earliest of: 1) the issuance of a temporary certificate of occupancy, 2) the date of the issuance of a certificate of occupancy, 3) or the date of issuance of a certificate of completion, or 4) the date of abandonment if construction is not completed.
The repose period would start to run seven years from the earliest of the foregoing four events. These changes, if adopted, could have significant changes to the timeframe within which an association may assert a claim against parties responsible for construction defects.
As the legislative session unfolds and reaches its conclusion on May 5th, our firm's attorneys will continue to monitor these and other bills impacting the state's community associations and real estate industry. We encourage all those who are interested to enter their email address in the subscription box on the right to automatically receive all our articles and updates on these and other timely issues.