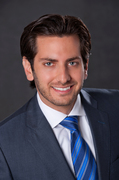 The firm's Joseph A. Miles and Nicholas D. Siegfried were featured in an article in today's edition of the Daily Business Review, South Florida's exclusive business daily and official court newspaper, about a major verdict that they recently secured for one of the firm's clients.  The article, which is titled "South Florida Lawyers Win $4.1M for Cable Company Fired Over Service Delays," focuses on their work in securing the verdict for an affiliate of Miami-based OpticalTel in a case involving the company's wrongful termination by a Central Florida HOA.  The article reads:
Coral Gables lawyers Joseph A. Miles and Nicholas D. Siegfried landed a $4.1 million verdict for Miami-based company PC Services LLC, which claimed the Cascades of Groveland Homeowners' Association Inc. in Lake County should never have terminated an agreement with the company because it wasn't responsible for a flurry of delays and problems with services.

The 2012 lawsuit arose from years of bad blood between the parties over a deal that turned sour. On July 2007, the homeowner association terminated its contract with PC Services, claiming it had failed to properly do its job. But PC Services argued it had and lost the opportunity to make a profit on its $1.6 million investment.

The defense argued it was right to terminate the agreement because it didn't get what PC Services promised.

Defense lawyers Aristides J. Diaz and Thomas R. Slaten Jr. of Larsen & Associates in Orlando did not respond to requests for comment before deadline.

Making the case was no small feat for the Siegfried Rivera lawyers, as it was laced with technical jargon that would likely stump the average juror.
The article concludes:
The homeowner association, keen on incorporating fiber optics into its new residential community, brokered a 10-year agreement with PC Services in September 2005, entrusting the service to provide content to an anticipated 999 homes. To do that, PC Services signed a $1.3 million contract with fiber optic company FPL Fibernet, which supplied the cables and buried them underground.

By early 2006, about 200 residents had moved in. But before long, there was a problem.

PC Services couldn't provide any content to the homes because there was no space to put headend equipment — computer systems and satellite dish antennae, which receive information for services like internet and TV. According to Miles and Siegfried, the clubhouse that was supposed to house the headend equipment didn't exist yet, so PC Services had to find somewhere else to put them.

That meant delays, which in turn caused plenty of complaints from homeowners lacking TV, internet and the rest. A blame game ensued.

"The developer at that time was effectively blaming my client for the delays in providing his services to the owners of the community," Miles said.

Miles and Siegfried told the jury that developer Levitt & Sons and its homeowner association never disclosed its headend space problem with residents, so they thought PC Services wasn't doing its job.

"Even before we started providing the content, we had homeowners up in arms contacting my client asking, 'What is wrong with you? Why are you delaying the delivery of the services?'" Miles said.

At last, the headend space appeared, the equipment was installed and the services kicked into gear. But then, another problem: There was something wrong with the wiring inside the homes.

"It was not done correctly by the contractor that was hired by the developer," Miles said. "This in-home wiring was just installed completely haphazardly and incorrectly, and that was giving rise to complaints of homeowners concerning the quality of our services."

At trial, the pair argued the defendant never hired an expert to come and inspect the wiring, despite complaints from residents.

"Instead, again, they pointed the finger at us and said, 'It's their fault. The reason you're not getting high-quality services is because they're not providing it,'" Miles said. "Nothing could have been further from the truth."

What's more, Siegfried stressed to the jury that of the 250 homeowners the defense could have brought to the stand, it brought three — amounting to about 1 percent.

"One percent of the community came into court to tell you that there was a problem with my client's services," Siegfried told the jury.

The jury found that the homeowner association had wronged PC Services, awarding $3.1 million in damages for breach of contract and more than $900,000 for unjust enrichment.

According to Siegfried, most crucial was testimony Alex Gonzalez, a field technician with a background in nuclear physics and no stake in the litigation. Bustamante had hired him to visit homes and troubleshoot technical issues.

"(Gonzalez) testified that when he went into the homes and found the in-home wiring, which was the responsibility of the developer to install, that it was a mess," Siegfried said. "It was some of the worst wiring he's seen in his 15, 20 years of experience in the industry doing exactly this."

Right or wrong, cable companies are no strangers to animosity over failing internet, so one major hurdle for Miles and Siegfried was guiding the jury away from any stigma. Testimony from CEO Bustamante went a long way.

"A lot of people have had bad experiences with cable companies, and here we are representing a cable company against homeowners," Siegfried said. "(Bustamante) was able to really humanize the experience, as this was a person that invested a lot of money into this community. It wasn't just some big, corporate cable company that couldn't care less about the customer. He was involved in every aspect of this project and I think that jurors really took to that."

Still, it wasn't easy to argue for damages, according to Miles.

"I was very concerned about asking six people in Miami-Dade County to award millions of dollars for cable, internet, television and alarm services," Miles said. "But my client expended a lot of money, put himself out there, took a mortgage on his house to fund this project. He was personally involved, and it's still hanging over his head right now."

When PC Services lost the contract, it couldn't pay the interest it had promised the fiber optic company.

"We still owe FPL Fibernet today," Miles said. "Our hope and goal is to collect the money that the jury awarded us, so we can satisfy our obligations and also to compensate my client for the profits he would have realized, if they hadn't wrongfully terminated the contract."
Our firm congratulates Joseph and Nicholas for their work in securing this multi-million dollar verdict that drew the attention of the Daily Business Review.  Click here to read the complete article in the newspaper's website (registration required).