Constant new development of residential and mixed-use towers can be seen all over South Florida, with new projects being announced constantly. The construction of these new towers evokes buyers to ask themselves: What is better, new or old? The answer to that question is triggering existing community associations to spruce up their communities by giving them a facelift in an effort to stay competitive.
With the intention of luring buyers to choose new over old, newer buildings are offering luxuries such as: sleek and polished designs, newer amenities, revolutionized living technology and the idea of being the first to live in a space that has not yet been inhabited. Add-ons such as state of the art fitness centers, exclusive resident spa services and five-star concierge and building services are making the choice of selecting new construction more appealing. However, this option commonly comes with a heavier price tag and some unexpected issues. A few draw-backs such as unforeseen construction delays and unknown kinks arising after construction are common issues owners face when selecting new construction. They also face the infamous turnover phase — a time that could be very difficult for newly established community associations if they lack the right experts to guide them through the process. These challenges have prompted older towers to improve their buildings with hopes of enticing these buyers to look their way.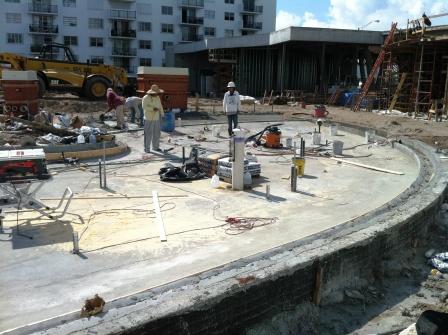 Older buildings are using the risks buyers face when purchasing new construction to their benefit. Towers over three years old are labeling themselves "established," having already dealt with most, if not all, construction defects found after the developer turned over control. They also highlight the fact that their boards are more seasoned, helping buyers feel like they are placing their investment in knowledgeable hands. Also, construction delays would never be an issue since these units are all move-in ready. In addition to highlighting some of the benefits that come with moving into an established community, many older condo towers are also making the effort in renovating their spaces to update their design to match the designs offered in newer construction. Some have gone as far as converting racquetball courts into multi-purpose rooms, yoga rooms, arts and crafts rooms and additional fitness centers. Simply by turning something old into something almost-new, these towers are keeping up with newer condos and competing at a price level that tends to be much more affordable, while still offering a similar style of living. With this in mind, the boards of these older buildings should be cautioned that their association's governing documents may prevent some of the proposed changes, and that many alterations and improvements must be approved by the association membership. Accordingly, it is advisable for community association counsel to be involved in the planning of any such changes.
It will be interesting to see what buyers will choose once most of these towers are finalized. Our firm's community association attorneys have assisted numerous clients with redesign projects throughout the years. We write in this blog about important legal and administrative issues affecting associations in Florida, and we encourage association directors, members and property managers to enter their email address in the subscription box at the top right of the blog in order to automatically receive all of our future articles.