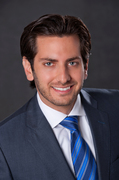 The firm's recent win before the Third District Court of Appeal in an important decision for Florida community associations was the subject of an article in today's edition of the Daily Business Review. Nicholas Siegfried, who represented the community association in the case together with Steven Siegfried and wrote about the decision in the preceding blog article below, was interviewed and quoted by the newspaper.
The report reads:
The case shows the "negative consequences that lenders can face if they go too far with their delay tactics in foreclosure cases," condo association attorneys Nicholas and Steven Siegfried said in a statement.

The case was Deutsche Bank Trust Co. Americas v. Harry Beauvais, a borrower who defaulted on his mortgage within months of securing it in early 2006.

Loan servicer American Home Mortgage Servicing Inc. filed suit in January 2007, demanding accelerated payments for the full $1.44 million.

Ironically it was this move for upfront payments that would unravel the lender's case and cost the bank the million-dollar property, because the condo association successfully argued the demand started a five-year clock for resolving the foreclosure.

Statute of Limitations

The court booted American Home Mortgage's case without prejudice when the servicer failed to attend a hearing.

That dismissal led the condo group to start its own efforts to claim outstanding fees on the penthouse.

"Like a lot of associations, this one was waiting to see what would happen with the foreclosure action," said Nick Siegfried, shareholder at Siegfried Rivera in Coral Gables. "But since the bank didn't proceed and the case was dismissed, the association had no choice but to proceed on its own."

Aqua Master Association won control of the penthouse in 2011, but its claim remained subject to the mortgage.

When Deutsche Bank took over American Home's foreclosure suit in December 2012, Aqua said the clock had already been ticking for five years and was about 11 months outside the statute window.

The bank argued the earlier dismissal "decelerated" the loan, but a judicial panel disagreed.

In an opinion issued Dec. 17, judges Frank Shepherd, Kevin Emas and Edwin Scales barred Deutsche Bank from pursuing the foreclosure. They found the bank never withdrew the original demand for accelerated payments, and so had to abide within the five-year window.
Our firm congratulates Nicholas and Steven for prevailing in this case for the association for Aqua Allison Island in Miami Beach and drawing the attention of the Daily Business Review. Click here to read the complete article in the newspaper's website (registration required).