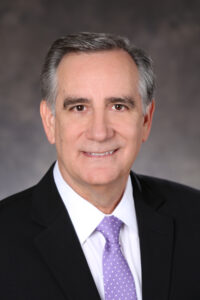 Managing shareholder Oscar R. Rivera was proud to be selected by the editors of the Daily Business Review, South Florida's exclusive business daily and official court newspaper, for the publication's weekly "Leading the Way" column featuring extensive Q&A interviews with South Florida legal leaders.  Now closing in on his fourth decade with the firm, Oscar discusses in today's article the changes that the firm and the entire legal profession have experienced during the pandemic, and how we have successfully contended with all of the challenges and continued growing.  The article reads:
. . . While Rivera has worked on some of Miami's most visible developments since joining the firm in 1984 — including representing the developer of 200,000-square-foot Mary Brickell Village — he hasn't encountered every legal issue his clients face.

Putting heads together to solve new problems was easier before COVID, Rivera said. So was getting to know law clerks' personalities and training young lawyers. And even if the pandemic were eradicated tomorrow, Rivera knows that many lawyers and staff, including those at his own firm, don't want to come back every day.

At the end of 2021, firm founder Steven Siegfried stepped down from his role as co-managing partner, leaving Rivera to lead the evolution of Siegfried Rivera in an eventual post-COVID world.
In an interview, Rivera weighed the challenges of hybrid and remote work against the resilience of his attorneys and employees, who he said handled the transition to remote practice during a period of heightened demand without compromising productivity or client service.

Which aspect of the last two years has been most challenging for you as a firm leader?
You fall out of your routine and the socialization aspect, going to lunch with people and meeting people. I think we're social beings at the end of the day and we enjoy that interaction, and all of the sudden from one day to the next that goes away. I'm blessed to have my wife and we get along great, but it's just weird all of the sudden to stop being able to interact with the people with whom you socialize. We all have that second family at work, you get used to that rhythm. It's a definitely social adjustment to work at home and not be able to have that interaction with other people.

What's the status of your in-office work currently?
Theoretically, we never closed, we all just worked remotely. We asked everyone to start to coming back by Nov. 1. Of course, omicron hit, so we really have not been outrageously successful at getting a lot of people back, simply because of the transmissibility of this virus. While we're still technically open and people are coming in, I would say maybe 15% of our people are coming in on a given day. A lot of people are rotating one day on, one day off. We've been somewhat successful in that but we still have a lot of people who are remote.

How has Siegfried Rivera worked to ensure the safety of all employees who work in the office?
Everyone who's back is pretty much vaccinated. From that perspective, we feel a little secure. We still have a mask mandate in the office and everyone still needs to be masked unless they're in an office and no one else is there, so that also helps. And we still have protocols that are stricter than the [Centers for Disease Control and Prevention] standards for being in the office. If you don't feel well you still have to be tested and show us negative test results. We feel pretty good about not having transmissibility in the office; even though the CDC has reduced some of their guidelines we have not, and we also asked the people who come in to be vaccinated. So we feel fairly secure in that regard.

Notwithstanding, many people who have come into the office from time to time have contacted us and told us that they ended up getting the omicron variant, so we have had some positives. Luckily, because they were vaccinated, those people have really gotten through it with no significant impact, so we feel very blessed in that regard.

How do you balance attorneys' desire to be remote with the need for in-person collaboration?
That's what we've struggled with the most, I think. You lost the ability to instill the firm culture in new hires and employees because if you don't have people there, obviously that can't be communicated as well. We don't believe that can be done through a Zoom interaction, so that's No. 1.

Two, you lose some of the brainpower. What I mean by that is that it's a great assistance when I can walk next door to somebody's office and say, "Hey, what do you think about this? I've got this problem." That kind of interaction you're more prone to do if you're next door to someone than having to call or text them or get on the phone and they may not be available. You can walk down the hall and get a couple of people together and say, "Hey, what do you think about this?"

Today was a perfect example: A client sent me an issue that, quite frankly, in the 40-odd years I've been doing this, I haven't experienced. I told the client, "I don't know, let me get a couple of brains from the office together and let us kick it around and get back to you." That's so much easier if you're all in the same physical location. You lost the ability to do that, to service the client quicker and better, by not having that. There's a distinct advantage to having that physical cohesion which, unfortunately, over the last couple of years, we haven't been able to have.

So how do you train young lawyers remotely without missing the benefit of that in-person interaction?
That's part of the problem, you can't, or it makes it much more difficult to accomplish those kinds of things. As much as we think Zoom is like being there it sort of isn't, so it takes away from some of those experiences for the firm and for individuals. The people who feel it the most are the law clerks. We hire attorneys in training from universities, from the University of Miami or Florida International University or St. Thomas University. It's a teaching tool for them and it helps us evaluate their abilities as an individual and their personalities and their legal skills to see if we want to extend an offer to them to join the firm upon graduation.

I think that group has suffered during COVID because how can we evaluate their personality? It's hard, you want people to be cohesive and to fit into your culture. Part of that is getting to know the person, going to lunch with them, saying, "come with me to this client meeting," and driving 30 minutes to the meeting and getting to know them as a person. That's much harder to do in an electronic platform.

What's the next-best thing then?
We try and have group Zoom calls so that we don't lose that personal interaction with people. From time to time, we schedule group meetings to try and keep that cohesiveness alive. So we have done that, and are doing that. I have administrative group leader meetings every two weeks, in which we organize all of the leadership at the firm and meet to discuss things electronically. We try and do it as best we can through electronic means so that people can stay in touch.

Are there any positive changes from the pandemic that you're likely to keep going forward?
I think so, I don't think you're going to see everyone being in an office 100% of the time anymore. I think that, even if you say we're all going back to work March 1 and everybody's got to come into the office because COVID has been overcome with mass immunity, vaccines, new pills, whatever it is—I still think you're going to have a percentage of the population that will want to have some sort of hybrid schedule and a percentage that will want to work remotely 100% of the time, simply because of their personal needs and all that.

To the extent that those people are engrained in your firm—people who already have your firm culture—I think it becomes difficult to tell that person no, you can't do that. Because we know we can accomplish the same level of productivity and have the same output, basically, from those people working in a remote setting.

I'm part of the Florida Association of Managing Partners and what we're seeing is, for the most part, law firms have not suffered a drop in productivity as a result of the remote working environment. So it is accomplishable, and it will become progressively harder in the future to deny people some flexibility in their work environment and work schedule. . .
Oscar concludes the interview by noting that leading the firm during the pandemic has required a great deal of perseverance and reliance on the superlative skills and capabilities of our attorneys and professionals.  He notes that it has been a humbling experience to have everyone come together, pivot from one day to the next, and keep serving all our clients' needs.
Everyone at the firm wholeheartedly agrees, and we congratulate Oscar for sharing his thoughts and our firm's story with the readers of the Daily Business Review.  Click here to read the complete article in the newspaper's website (registration required).