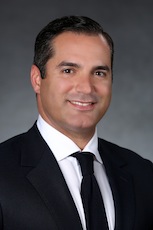 Firm partner Roberto C. Blanch authored a "My View" guest column that appeared in today's edition of "Business Monday" in the Miami Herald.  The article, which was titled "Condos' Task:  Addressing Airbnb Short-Term Rentals," focuses on how local municipalities and community associations are responding to the issues that are being created by short-term rentals using Airbnb and its competitors.  Roberto's article reads:
The issues created by short-term rentals facilitated by Airbnb and its competitors have been among the most pressing problem areas for condominium and homeowners associations during the past several years. While most community association governing documents prohibit short-term rentals, the enforcement of these restrictions has proved to be challenging and costly, and as a result, many association boards of directors and property managers are implementing strategic countermeasures and monitoring tactics.

South Florida has been particularly affected, given the area's standing as a major international tourist destination, and the Miami market has ranked among the top five home-sharing markets in the U.S., according to Airbnb.

A number of South Florida municipalities have adopted new measures to enforce restrictions on these nontraditional rentals. In particular, the City of Miami Beach has been leading the charge with some of the most stringent regulations and fines in the country.

Miami Beach ordinances allow for vacation and short-term rentals (less than six months and one day) in certain zoning districts, but they are banned in all single-family homes and in a number of zoning districts. Fines for violators previously ranged from $500 to $7,500, but they were increased dramatically in March 2016 by the city commission to $20,000 for first-time violators.
Roberto's article concludes:
While municipal restrictions and enforcement measures against short-term rentals vary greatly, community associations are now implementing their own pragmatic policies to enforce their governing documents.

For associations with governing documents and bylaws that allow for short-term rentals in their community, noise and nuisance disruptions and complaints need to be addressed with a strong fining system to ensure that they are kept to a minimum. Airbnb and the other rental sites offer extensive tools for hosts to vet their prospective tenants, and fines against unit owners will help to motivate them to do everything that they possibly can to avoid disruptive guests.

Some associations may consider adopting new amendments, bylaws or rules to limit the number of nights a residence may be rented, which can offer a level of flexibility for owners while also avoiding the possibility of creating a revolving door of unfettered short-term guests.

For associations with governing documents that prohibit these nontraditional rentals altogether, the implementation of a clear fining policy is essential. This will typically entail the adoption of a new rule in which all of the fees and fines are delineated.

Monitoring to identify and catch the violators will also play a key role. Savvy owners have been known to sneak their transient guests into the property by advising security that their visit is authorized. As such, enhanced vigilance and guest-screening measures may be necessary. Some associations are developing and implementing new registration forms for use with guests and tenants along with written assurances and noncompensation statements indicating that they are not paying for their stays.

In addition to these and other measures, a number of new service providers have now sprouted to help associations and other landlords monitor and detect listings in the online home sharing sites. These service providers use automated and proprietary search applications and algorithms to find and report listings in their clients' communities and properties. Once the listings are identified, some offer additional investigation and enforcement services to assist associations and landlords in taking the necessary steps to prevent the rentals.
Our firm salutes Roberto for sharing his insights into how associations are responding to short-term rentals with the readers of the Miami Herald.  Click here to read his complete article in the newspaper's website.