For homeowners' associations governing communities of single-family homes, one of the most difficult balancing acts to uphold is that of enforcement actions required against noncompliant homeowners over the physical state of their property. In the minds of many Americans, community associations have a negative perception and stigma for overzealous rules enforcement, but yet they cannot allow individual owners to flout important policies that help to maintain their communities' property values.
After unsuccessful attempts to persuade an intractable owner to comply with the language provided in an association's governing documents, the time may come to file a lawsuit against the violating member. While such action should not be taken lightly due to the potential costs and uncertainties of litigation, such lawsuits may be the only recourse left to associations facing obstinate owners who refuse to comply.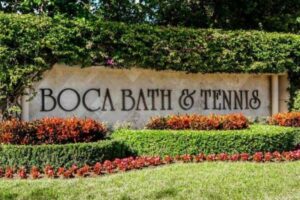 Such appears to be the case with a recent lawsuit filed by the Boca Raton Bath & Tennis Club HOA against homeowner Lynn Min for alleged violations of several provisions found within the community's governing documents. The suit, which was covered recently by www.BocaNewsNow.com, states:
"Owner is in violation of the provisions cited [in the governing documents] by virtue of their Property being in a state of disrepair, including a lack of maintenance to the home's structure and roof, the exterior of the Property needs to be painted, the sod needs to be replaced, and the irrigation system is defective and needs to be repaired."
The complaint also alleges that Min refused to participate in pre-suit mediation as required by Florida law prior to the filing of a lawsuit, and that she failed to comply with any of the association's demands to bring her property into compliance. The complaint seeks injunctive relief to have the court force her to bring her property up to the community's standards, as well as legal costs and other damages.
While it is always preferable to resolve these disputes without resorting to litigation, including participating in the pre-suit mediation process as required by Florida law, once such efforts have been exhausted associations should consider such lawsuits as part of their fiduciary duty to act in the best interests of all the owners in order to maintain their property values. Owners of homes in HOA communities are made well aware of all restrictions, rules and regulations provided for within the association's governing documents prior to or at the time of their property acquisition. If an owner is unwilling to comply with such policies that are designed to maintain community harmony and aesthetic appeal, they should avoid buying homes in communities with such requirements.
When it comes to enforcement actions, it would be prudent for associations to seek the counsel and representation of highly experienced community association attorneys to guide them through the process. Our firm's community association attorneys write regularly about important matters such as this in our blog, and we encourage association directors, members and property managers to enter their email address in the subscription box on the right to automatically receive all our future articles.