The Community Associations Institute, the largest organization representing the interests of communities with associations, recently issued a new public policy titled "Assistance Animals and Pets in Community Associations."  The new policy recommendations, which were adopted by the organization's Board of Trustees, serve as excellent guiding principles for associations and lawmakers on pet restrictions and assistance animal policies.
The policy recognizes the rights of residential community associations to regulate and adopt rules pertaining to pets and assistance animals, but it notes that such rules must guarantee the rights of individuals with disabilities to receive the assistance they need as mandated by state and federal laws.  It will be used by the organization and its legislative action committees around the country to support legislation allowing associations to request documentation that verifies the need to accommodate for an assistance animal, and which imposes penalties for fraudulent requests for service or emotional support animals.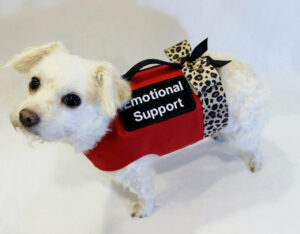 Assistance animals are recognized as deserving of reasonable accommodations for the qualified disabled under the federal Fair Housing Act.  Assistance animals are not considered pets, according to the U.S. Department of Housing and Urban Development, which oversees the Fair Housing Act and investigates claims of housing discrimination.
There has been widespread speculation that individuals in communities with pet restrictions have been fraudulently claiming to require "emotional support" dogs, cats, birds, pigs, etc.  Associations have responded by requesting information regarding the nature of the disability that is being claimed so that they may make meaningful evaluations as to whether the requested accommodation is reasonable.  Meaningful reviews may authorize associations to inquire about how the claimed disability affects major life activities and how maintaining the animal will assist the requestor in fulfilling these activities.
Associations may ask individuals requesting an emotional support animal to provide documentation from a physician, psychiatrist, social worker, or other qualified professional indicating that the animal provides support and alleviates one or more of the identified symptoms or effects of an existing disability.  Such documentation is deemed to be sufficient if it establishes that an individual has a disability and the animal in question will provide some type of disability-related assistance or support.
Florida is now among the states that has established criminal penalties for service animal request misrepresentations.  State law now holds that an individual "who knowingly and willfully misrepresents herself or himself, through conduct or verbal or written notice, as using a service animal and being qualified to use a service animal or as a trainer of a service animal commits a misdemeanor of the second degree, punishable as provided in s. 775.082 or s. 775.083 and must perform 30 hours of community service for an organization that serves individuals with disabilities, or for another entity or organization at the discretion of the court."
Community association directors and property managers in Florida should review CAI's new public policy on assistance animals and pets, which can be found by clicking here.  Our firm's community association attorneys write about timely and important issues for associations in this blog, and we encourage association members, directors and property managers to enter their email address in the subscription box on the right to automatically receive all of our future article.