The issue of fraudulent emotional support animal requests is drawing significant attention at both the state and federal levels with the Florida Legislature and the U.S. Department of Housing and Urban Development.
As this year's legislative session gets underway in Tallahassee, HB 209 seeks to protect individuals with legitimate disability-related needs for emotional support animals from discrimination or having to pay extra fees.  However, if passed, it would also authorize landlords to request certain written documentation and prohibit the falsification of written documentation or other misrepresentations.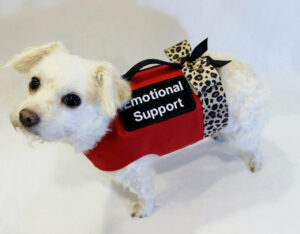 The bill, which is currently undergoing committee review, would make it a second-degree misdemeanor for the falsification of written documentation for an emotional support animal or the willful misrepresentation of qualifications for an ESA.  It addresses the criteria for the written documentation that must be submitted from healthcare providers in support of ESA requests, and would also require the state's Department of Health to adopt rules regarding the format of the required written documentation.  Significantly, the bill would also mandate that the treatment provided must go beyond merely writing a letter.
Federally, the U.S. Department of Housing and Urban Development is also taking measures to address and prevent fraudulent ESA requests and documentation.  The Secretary of HUD recently issued a letter to the Chairman of the Federal Trade Commission and the Director of the Bureau of Consumer Protection expressing concerns with online companies that sell bogus ESA request documentation.  By urging the FTC and Department of Consumer Protection to prosecute the websites selling the baseless documentation, HUD is opening the door to a regulatory process by which these companies can be held accountable and their fraudulent practices may be eliminated.  Click here to read the HUD Secretary's letter.
While legitimate requests for ESAs by disabled residents should be accommodated and protected by state and federal laws, the new Florida bill and the recent letter by HUD represent important measures to address how requests are verified and fraud may be prevented.
Our firm's community association attorneys write about important issues for associations in this blog, and we encourage association members, directors and property managers to submit their email address in the subscription box on the right in order to automatically receive all our future articles.