The Public Affairs Council, which is the leading nonpartisan association for public affairs professionals worldwide, recently awarded its 2022 Lobbying Strategy Innovation Award to the Community Associations Institute for the organization's condominium safety policy response and initiatives.
In the aftermath of the horrific collapse of Champlain Towers South that claimed 98 lives, CAI released its Condominium Safety Public Policy Report based on the work of its special task forces to recommend changes to laws and best practices that may help both communities and legislators to better address building safety.
The participants in these task forces included engineers, insurance experts, building officials, local government leaders, property managers, attorneys, lenders, and others. Over the course of three months, more than 600 individuals devoted a great deal of time to discussions, surveys, interviews, and research to identify clear recommendations.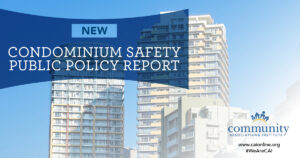 The resulting Condominium Safety Public Policy Report provided extensive policy positions and recommendations covering reserve studies and funding, building maintenance, and structural integrity. Since its release, CAI's government and public affairs team has continued to conduct outreach to state legislators and their staff as well as key individuals in federal housing agencies.
The organization's advocacy efforts at the federal level have resulted in the introduction of H.R. 7532, the Securing Access to Financing for Exterior Repairs (SAFER) in Condos Act, and H.R. 8304, the Rapid Financing for Critical Condo Repairs Act of 2022, by Florida Representatives Charlie Crist and Debbie Wasserman Schultz.
So far, Florida, Illinois, Maryland, and Virginia have passed laws consistent with CAI's public policy recommendations, ranging from reserve study requirements to comprehensive building inspection mandates.
PAC's annual Lobbying Strategy Innovation Award recognizes an organization that finds new and creative ways to connect and work with internal and external stakeholder groups and engage them with advocacy efforts or policy priorities. In 2022, PAC reviewed more than 50 nominees for its three annual innovation honors. Nominations came from Fortune 500 companies, trade associations, professional societies, consultancies, and large advocacy organizations.
"CAI is honored to receive this prestigious award on behalf of our staff and volunteer members who worked tirelessly to create policy recommendations and critical resources supporting homeowners, community association professionals, legislators, and other housing stakeholders following the Surfside tragedy," said Dawn. M. Bauman, CAE, CAI's senior vice president for government and public affairs. "We believe that our work does makes a difference in the lives of millions of homeowners worldwide. We dedicate this award to the memory of the 98 residents of Champlain Towers South who lost their lives, loved ones, and those who lost their homes in the tragic collapse."
Our firm salutes the Community Associations Institute, which is the leading international organization for education, governance, and management of condominiums, housing cooperatives, and homeowners associations, for its efforts that led to it receiving this prestigious recognition. As condo safety reforms and legislative initiatives continue to unfold at both the state and federal levels, CAI is continuing with its advocacy efforts. To learn more about the status of all the proposals, visit its website at www.CondoSafety.com.