A new Florida law passed under Senate Bill 264, which Governor Ron DeSantis recently signed, enacts several new real estate ownership restrictions on persons or entities from China, Russia, Iran, North Korea, Cuba, Venezuela and Syria. The new law, which is expected to have significant ramifications for the state's real estate industry, provides for particularly stringent restrictions against most ownership by principals from China.
The new law prohibits governmental entities in Florida from contracting with any of these foreign countries of concern or entering into any contract or agreement granting them economic incentives. It prohibits the ownership of agricultural land and property located near military installations or critical infrastructure by foreign principals from the countries, and most ownership by principals from China will be banned.
The new law exempts agricultural land owned before it goes into effect on July 1, 2023, but it creates a registration requirement for foreign principals who continue to own such parcels. It also mandates that agricultural land buyers must provide an affidavit under penalty of perjury attesting they are not a foreign principal and are in compliance with the law.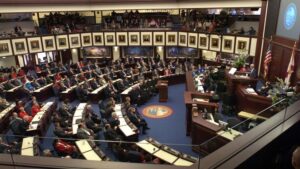 Violations include civil actions for forfeiture and seizures in cases of clear and present danger to the state, and knowingly violating the statute is a second-degree misdemeanor.
Similarly, principals from the countries of concern will not be allowed to own real property on or within 10 miles of any military installation or critical infrastructure facility in Florida, with exemptions and registrations for properties owned before July 1.
The new law also broadly prohibits the purchase or acquisition of real property by the Chinese government and Chinese Communist Party; other political party or member of a political party or a subdivision of a political party in China or any of their officials or members; partnerships, associations, corporations, organizations or any other combination of persons organized under the laws of or having its principal place of business in China or a subsidiary of such entity; and any person who is domiciled in China and is not a citizen or lawful permanent resident of the United States.
The law allows Chinese citizens who are legally in the U.S. with non-tourist visas to acquire one residential property of less than two acres of land located at least five miles away from any military installation.
The civil and criminal penalties involving purchases by Chinese principals are more stringent. They will constitute a felony of the third degree, and those who knowingly sell real property or any interest therein in violation of the statute will be committing a first-degree misdemeanor.
Proponents of the new law say it is vital for national security, while its detractors say it conflates Chinese individuals with the Chinese Communist Party and sows discrimination against them. The Florida Asian American Justice Alliance has vowed to challenge the law in court on constitutional grounds, calling it discrimination based on nation of origin.
Nonetheless, the law will go into effect at the start of July, and real estate buyers, sellers and professionals are now being put on notice to comply. South Florida and some other parts of the state attract many buyers of vacation homes and investment properties from across the globe, and the new law will add a fair amount of document examination and verification.
Highly experienced real estate attorneys will be able to put in place the most effective safeguards to avoid running afoul of this new law. Those involved in property transactions would be well advised to work with highly qualified real estate attorneys to ensure that all the necessary due diligence, representations and state registrations take place.
Our firm's South Florida real estate attorneys write about important matters for the industry in this blog, and we encourage industry followers to enter their email address in the subscription box on the right to automatically receive all our future posts.