Residents of the Phillips Bay Condominium in Orlando, Fla. are finally breathing a sigh of relief after a years-long saga of a nightmare neighbor appears to be coming to an end with a conviction for aggravated stalking. Residents are now awaiting a final ruling from the court on the penalty for the third-degree felony, which under Florida law can be as high as five years in prison, five years of probation and $5,000 in fines.
According to an arbitration order from the state's Division of Condominiums under the Department of Business and Professional Regulation, the complaints against unit owner Marianna Seachrist (pictured below) at the condominium association began in early 2014, shortly after she moved in to the community. Neighboring unit owners complained of constant pounding and rumbling noises at all hours of the day and night, and police were eventually called when Seachrist threatened to hire someone to kill one of the board members.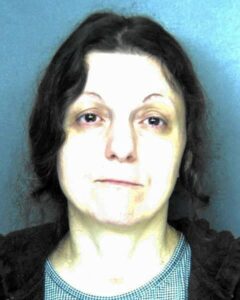 The loud and disruptive noises continued, and the threatening behavior escalated to the point that some residents lived in fear of walking around the community. After multiple incidents and calls to police, her downstairs neighbor was granted a temporary injunction for stalking protection in 2015.
After Seachrist was served with the injunction, deputies had to return to her condo three successive days because of noise disturbances. In subsequent visits they heard low-bass rumbling and knocking noises, and after obtaining a search warrant they rammed the front door and discovered an elaborate sound system, including three low-frequency speakers mounted to a board and placed face-down on the floor in the living room, hallway and closet. The speakers were also weighed down by dumbbells and cinder blocks, and they were wired to an amplifier using a tablet to play a recording on a loop of bass-clicking noises that would vibrate the room. The setup allowed for the remote operation of the system using a smartphone.
In addition to the arrest for aggravated stalking, Seachrist's civil penalties handed down under the arbitration in early 2017 included $1,000 per month to be paid to the association to subsidize the rent for a law enforcement officer to reside in the community as part of the municipality's courtesy officer program. The order also called for $1,875 to be paid to the association for damaged landscaping and related services.
According to the latest reports by Orlando's WFTV (Channel 9, ABC) in February, Seachrist was recently found guilty of the stalking charges and has been jailed while awaiting sentencing. Her parents have sent an email to the judge asking for spiritual help for their daughter so she may "confess and find peace in her soul," according to court records. Her unit is now in foreclosure.
The arbitration order and news reports in this case paint a picture of a troubled unit owner who made life very difficult for her fellow neighbors. While it may have taken years to resolve, it appears that the condominium association and unit owners did everything that they could to address the issues caused by this unit owner through both civil remedies and criminal charges.
Other community associations dealing with troublesome and disruptive unit owners should take note of this case and follow similar courses of action with the help of highly experienced association legal counsel to address such issues through both civil authorities and law enforcement.