Several of my colleagues and I have written extensively in previous articles in this blog about the issues surrounding service dogs in communities that maintain strict restrictions against pets. We have discussed how many of these communities have been forced to contend with residents whose requests for exemptions for service dogs have been highly questionable and, in some cases, even complete shams. However, a recent case that was covered in an article in The Miami Herald illustrates the dangers that associations – and their board members – may face if they grossly miscalculate and overreact to a request for a service dog from an individual who is obviously disabled.
In Sabal Palm Condos. of Pine Island Ridge Ass'n v. Fischer, unit owner Deborah Fischer suffered from multiple sclerosis and was confined to a wheelchair, so she acquired Sorenson, a trained service dog. The association's pet policy only allowed for a cat or fish, or another pet weighing less than 20 pounds and only with prior permission of the board. Fischer asked the condominium association to accommodate her disability by allowing her to keep Sorenson, who weighs more than 20 pounds.
The association responded by requesting copies of Fischer's medical records from all of her healthcare providers who diagnosed or treated her disability, which she claimed made a service dog necessary. Sabal Palm also requested that she provide "all documents relating to the nature, size and species of dog, as well as all documents regarding any training it received."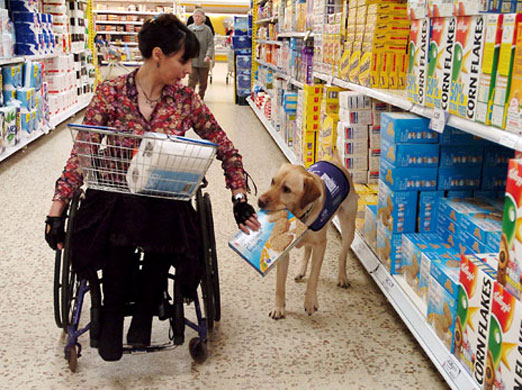 Fischer provided the association with a letter from Sorenson's trainer describing the tasks he was trained to perform, and she enclosed a photo of herself in her wheelchair with Sorenson. However, this was not good enough for the association, and Sabal Palm went on to request additional documentation, which Fischer provided, that made her disability and her need for a service dog extremely evident and clear.
Shockingly, the association responded by filing a lawsuit against Fischer and her husband seeking a declaratory judgment that it need not accommodate Fischer by allowing her to keep Sorenson based on the fact that the dog was over the 20 pound weight restriction. Fischer countersued claiming that the association and its president discriminated against her when it refused to accommodate her request to keep Sorenson.
The court found that Sabal Palm violated the federal Fair Housing Act (FHA). The judge's 30-page order states that the defendant's disability was so obvious and her need for a service dog had been so clearly established that the association failed to reasonably accommodate her disability as required by federal law.
"Sabal Palm got it exactly — and unreasonably — wrong," wrote U.S. District Judge Robert N. Scola, Jr. That the condo association "turned to the courts to resolve what should have been an easy decision is a sad commentary on the litigious nature of our society. And it does a disservice to people like Deborah who actually are disabled and have a legitimate need for a service dog as an accommodation under the FHA," Judge Scola concluded.
In addition, the court also found that the association's president was personally liable to Fischer, as "[i]ndividual board members or agents such as property managers can be held liable when they have personally committed or contributed to a Fair Housing Act violation."
After Scola ruled in the Fischers' favor, their attorney negotiated a $300,000 settlement with Sabal Palm.
The lessons from this case should be very clear to associations and their directors. Residents who are obviously visibly disabled and establish that they need the assistance of a service animal should be accommodated. Unfortunately, abuse by individuals without disabilities masquerading the need for fake service animals has lead many associations to distrust applicants to the detriment of those who are truly disabled. However, associations that turn to the courts to confirm their decision to deny accommodations in such cases without using common sense or listening to the advice of highly qualified and experienced legal counsel can bring significant legal liabilities and expenses to their communities.